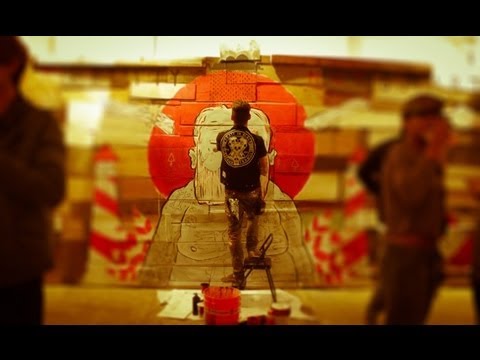 Watch
In the summer of 2012, the Montreal Museum of Fine Arts brought the En Masse Project on board for the creation of their new educational area. On the course of 2 of the hottest weeks of July, 28 artists gathered together in the new sections of the museum to create one of our most impressive piece to date, covering walls and part of the ceiling on 2 levels, a staircase and one of the main access...
Watch
Just like in 2011,I headed south for the art week events surrounding the Miami Art Basel. Supported by team of street art veterans, EM spent 14 days in vice city, spreading our black and white magic as much as we could. Thanks to all of you who somehow got involved during this trip and made it one of the best adventures we ever experience with the project on the road. It was a blast see you next...
Watch
In October 2011, En Masse has been invited to take part to the very popular Big Bang, among the likes of Wadji Mouawad, Denys Arcand and Pierre Lapointe. Once the show was over in January, the whole room disappeared under the coats of white paint. You can see pictures of the event on our website and can get poster and catalog of the show through Galerie Pangée in Montreal / En Octobre 2011, le...
Watch
For a second year, I've been asked to part of the team that takes care of the Osheaga Art events. This year, with the help and the talent of Malcolm Sutherland, we've created a 30 sec animated film intoducing Oshee & Aga. / Pour une seconde année, on m'a demandé de faire partie de l'équipe Osheaga Art. Cette année avec l'aide et le talent de Malcolm Sutherland,...
3 tags
Watch
In March, En Masse went to NYC to take part of the Fountain Art Fair at the 69th Regiment Armory. It was a pretty impressive week spent with some of our good friends. Here's a video I made to capture this event. Thanks to Fountain Crew, Samson Contompasis, Mister Johnny Leo and Elle. EM loves you / En mars, En Masse est parti en direction de NYC pour prendre part au Fountain Art Fair...
Watch
Once the Basel officially started, we jumped on the creation of a wall in collaboration with the great Primary Flight. It took us about 2 days and a half to complete this beast. Thankfully, the team manage to grow exponentially during those 2 days and we ended up with an International all-star cast, we miss you all and we'll see you soon / Une fois le Basel débuté, nous nous sommes mis à la...
Watch
At the end of November, with the help of Sodec Quebec and Galerie Pangée, the En Masse Art Initiative flew down to Miami to take part of the Miami Art Basel events. Before the festivities even started, we painted two 8'x8', two 2'x8' and one 12'x8', all at the magnificent Fountain Art Fair HQ / En Novembre dernier, avec l'aide de la Sodec et de la Galerie...
Watch
Good friend and visionary artist Chris Dyer asked me to help him promote is new book published on Schiffer. Here's the promo video I made for him. Don't miss the launch December 2nd at 7th Circuit Studio (228 N.E. 59th Street Miami) followed by a live show by French Musician Yelle on the beach./ Chris Dyer, ami et artiste visionnaire, m'a demandé lui donner un coups de main...
Watch
Last Demo Reel of my work under La Moustache (RIP) banner. Including work excerpt from Gaz Metro Campaign, Safewalls, Adidas x HVYW8, Pop Mtl, etc. / Dernière demo de mon travail sous la bannière La Moustache (RIP). Incluant extrait de la campagne Gaz Métro, Safewalls, Adidas x HVYW8, Pop Mtl, etc.